Exile Is My Home review by:
"Vivienne Jurado shows a comedic side that we did not know existed and she skillfully does so with grace and ease; as they would say in my hometown with "cache". Her interpretation of "Girl on the Second Planet" was fabulous, as "Woman Who Eats Hearts" she magically transports us to the evil and wicked side of this fairytale. As "Very White Hitler Loving Woman' she combines the fabulous with the magical, as Golden reminds us of Trump, she resembles and reminds us of Sarah Palin."
Hector Luis Rivera - ARTENY
ARTE Y TEATRO EN NUEVA YORK

"Vivienne Jurado provided a remarkable perfomance playing various characters ranging from naïve to charming, to complete evil."
Frederick R. Stal - RG Magazine

CLICK HERE TO READ THE FULL REVIEW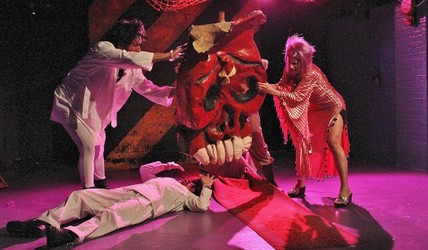 From the get-go, the new play "Exile is my Home" written by Domnica Radlescu, and directed by Andreas Robertz, captivated the intimate crowd at the Theater for the New City. This play tells the story of Mina (Noemi de la Puente) and Lina (Nikaury Rodriguez). They are a refugee couple from the Balkans that travel through the cosmos in search of a place called home. The music and lights captured the initial attention of the audience member initially, but it is the important and socially conscious story-line that leaves a lasting imprint. Although Mina and Lina traveled to different galaxies and far-away places, the all-too familiar themes of war, subsequent displacement, and uprooting of people serve as a painful reminder of the reality we currently face here on earth. With just seven cast members, and modest stage props, the story was still told and without limitation. As a member of the audience, I was taken to another place. A different world, a far-away galaxy, yet still strangely familiar to the one I know. Notable performances were given by Mirandy Rodgriguez, who provided necessary comic relief as a Guatemalan Massage Therapist. Vivienne Jurado provided a remarkable perfomance playing various characters ranging from naïve to charming, to complete evil. Director Andreas Robertz knows himself what it is like to miss one's homeland, having come from Germany. He does a great job embracing a diversity of voices in this production, with an openness to taking a risk and trying something completely different. All throughout, the music of Alexander Tanson provided an appropriate mix of sonic dissonance, and out-of-this world sounds. Based in Charlottesville VA, this musician and sound designer, who also goes under the alias Siamese Floater, has been performing since 2014. Having grown up entrenched in electronic music, he began experimenting with different platforms for production, incorporating his various influences. Of the many topics addressed, both subtle and direct, despite the vast contrast of their environment, Mina and Lina faced the same universal social issues. Gender, sexuality, feminism, drug addiction, human-rights, it's all there in this story. Playful and creative, but also painfully true to the realities faced by millions every day. A place called home is what we are searching for, not just for the play's main characters, but for all of us as well. "Exile is my Home" emanates a powerful story with a creative edge.
More info:
www.theaterforthenewcity.net